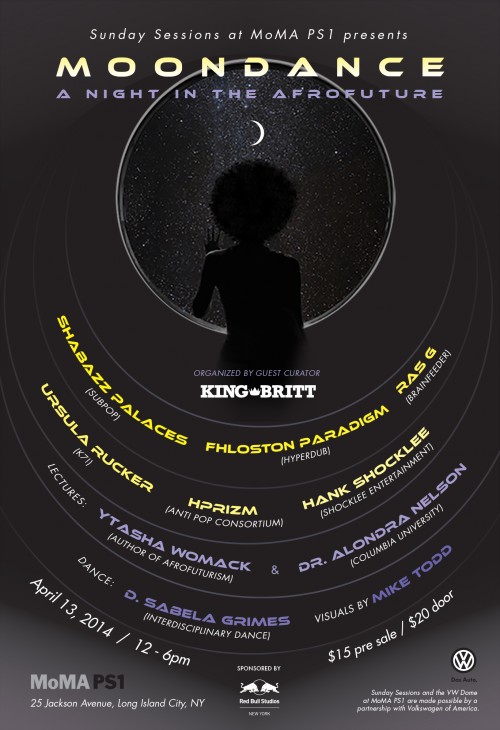 On Sunday, April 13th I will be performing with King Britt as part of Fhloston Paradigm at MoMA PS1.
I'm beyond excited and honored, and I would love to see all of you. Performing in the sonic realm of Fhloston Paradigm, I look forward to sharing with you the exploration of the divine union between the beauty and love that exists in the human experience and the mysterious future of all that exists which continues to unfold into infinity.
Working with King as part of Fhloston Paradigm, I have felt that I finally have the sonic soundscape with the proper breadth and range to support and inspire the range of my voice and own composition. At MoMA PS1 we will create a sonic tapestry that is both vast and intimate, pre-written and improvised.
Also performing:
Shabazz Palaces
Ras G
HPrizm
Ursula Rucker
Hank Shocklee
Dr. Alondra Nelson
Ytasha Womack
D. Sabela Grimes
Mike Todd
MOONDANCE is a celebration of the blackness in future contexts. The journey is in three parts, lecture, dance and music.
Curated by King Britt – Sponsored by Red Bull Studios
For more info and tickets, go to: http://bitly.com/1cYuw1w
$15 in advance / $20 day-of starting at Noon
Age restrictions: All Ages
"Fhloston Paradigm is a manifestation of afro futurist ideals, based in an electronic music landscape. It walks the line of duality, both science fact and science fiction. It is the future of the now moment. The purpose is to transmit the omni-versal message of divine abstractions into aural pleasing tones." –King Britt
Fhloston Paradigm – Signed to Hyperdub by Kode9.
The debut album transmits in 2014.
---