Solstice Festival Cleveland Museum of Art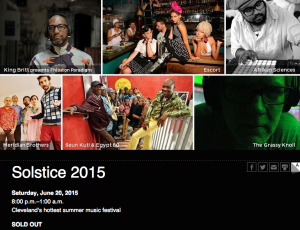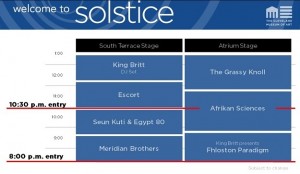 6/20/15 Solstice Festival
Cleveland Museum of Art
On Saturday, June 20th, 2015
I join King Britt & Mike Todd for another performance of:
Solstice 2015
Saturday, June 20, 2015
8:00 p.m.–1:00 a.m.
Cleveland's hottest summer music festival
SOLD OUT
Tickets to Solstice sold out during the member pre-sale and are no longer available.
Celebrate the long summer days and hot summer nights at the museum's seventh annual Solstice—a night where art and music come together. Guests will have an opportunity to enjoy dynamic and cutting-edge music from around the world, and explore the museum galleries late into the night.
Solstice has become the most anticipated event of the summer, featuring two stages packed with forward-looking artists from around the globe. From the Colombian tropical-psychedelia of Meridian Brothers to the state-of-the art modern disco of Escort; from the legendary pioneers of Afrobeat, Seun Kuti & Egypt 80, to the consistently creative DJ King Britt; from the futuristic sounds of the Grassy Knoll to electronic music innovator Afrikan Sciences. Solstice is the city's premier summer kick-off event.
Food and beverages will be available for purchase throughout the evening.