Fhloston Paradigm Live: The Gatherings Concert Series
Fhloston Paradigm Live Show
Fhloston Paradigm (the innovative music project by
King Britt w/ Pia Ercole) & Spacemusician Chuck van Zyl
are set to co-headline live within the remarkable setting of
St. Mary's Hamilton Village as part of
The Gatherings Concert Series' annual free admission event
on Saturday, April 21, 2018 at
8:00 pm
3916 Locust Walk in Philadelphia, PA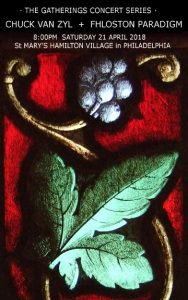 To intrepid travelers along the deep and dark spaceways, King Britt's innovative music project Fhloston Paradigm will put a hum in your ear drum.
With a gentle precision his music generates reassuring atmospheres of electrical synthesizer tones and digital textures. From a pervasive sense of calm, to a most potent magic, we journey through a rare sonic realm against the strong tug of some unseen charm – and wonder what strange spell has been cast? Progressing through spacey thought-zones, we seem to be on an excursion where every track is a detailed mind trip. Some notes are so deep your DNA will vibrate, while further in they are as light as cosmic cotton candy.
King Britt confirms that blending technology and music at this level can produce touching works – music as intimate as our own blood cells, with the structure and strength of just discovered alloys. Writing music for other people is just nuts and bolts. King Britt makes music for all of creation. Wrapped in the luminous glow of human consciousness, it is full of electronic poetry – as, with its focus on the electro-sonic, it contemplates new narratives of existence.
While the rigors of Julliard and its prestigious training prepared Pia Ercole for the opera world, it also groomed her for the stage in another way entirely… After years of rigorous study she found that a great many other genres of music outside of classical still called to her. In working with Electronic Music luminary King Britt on Fhloston Paradigm, innovative vocalist Pia Ercole combines both her classical training in opera with her vast compositional and vocal sensibilities in a unique and beautiful way. In this project, Ercole has found a sonic landscape with the proper breadth and range to support and inspire (what she can only refer to as) her more "operatic voice". In this collaboration the music and moment direct every nuance of her phrasing and tone. What we hear when these two get together is their connection with an atmosphere – a sonic vibe. An exercise in listening, their sessions are a place of discovery – where even the most basic rhythm, repeated melodic motive, or drone is found to be an inspiration which draws out a unique expression from Ercole's interior world. Britt's music directs every nuance of Ercole's phrasing and tone – as the emerging vocals are born from connecting with a particular sonic vibe. Thus far Pia Ercole has embarked on several significant sonic journeys with King Britt – culminating in the auditory magic of the Fhloston Paradigm live and studio projects – a zone where voice, song, Electronic Music and analog synths meet – re-imagined in a beautiful, divine, and other-worldly aural plane. Pia Ercole believes that this endeavor is what her voice was meant to be used for – to translate the truth…
LISTEN: